AS9100 REV D & ISO9001:2015-Certified CNC Machine Shop
ITAR-Registered CNC Machine Shop Processes
Federal and independent safety certifications identify and ensure that safe, legal and effective machining practices are observed in industry-specific applications. Miller CNC is ISO 9001:2015 and AS9001 REV D-certified, ITAR-registered machine shop facility capable of performing fully certified 3 Axis, 4 Axis, and 5 Axis mills along with CNC lathes. We have worked hard to develop a robust AS9100 and ISO9001:2015 certified Quality System, which includes companywide utilization of Shoptech E2 ERP system for increased quality control.
For more information about our innovative CNC machining processes and additional capabilities, contact us or submit an RFQ online!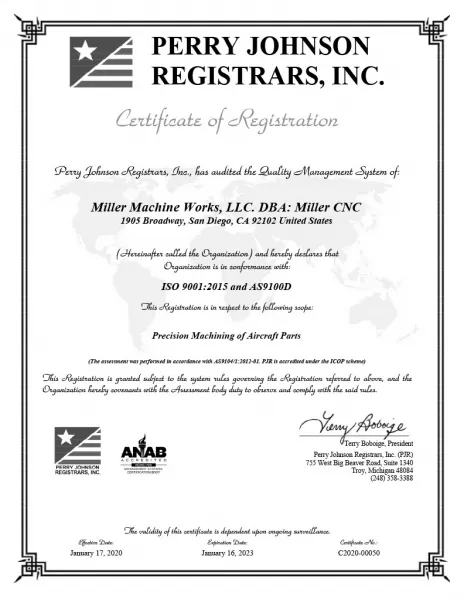 Benefits of AS9100, ITAR & ISO9001:2015-Certified Machine Shop
Because Miller CNC uses ISO 9001:2015 and AS9001 REV D-certified, ITAR-registered machine shop processes to manufacture hard-to-machine metals, we can create the highest quality, complex machined components available. We take all the necessary quality control and inspection steps required to make sure the products you receive are suitable for mission-critical applications. Our 3-axis, 4-axis, and 5-axis machining capabilities allow us to create complex components based on your exact specifications and meet MIL-Spec, AMS-Spec, AN-Spec and other regulatory requirements. These specialized processes allow us to optimize cycle time while performing all required machining processes in a single fixture, saving on time, labor and set-up costs.
Quality Certified Machining Materials Used
 We work extensively with hard metals and specialty alloys to provide high-performance machined parts, tight tolerances and critical surface finishes. Miller CNC's skilled machinists can form complex parts and performance-built components from a variety of specialty metals and difficult to machine materials, including:
Typical run sizes on specialty metal machining range from 50 to 500 pc repeat orders, with LTAs preferred.
Customized CNC Machining Equipment & Capabilities
Our precision CNC machining and turning capabilities include in-house, full-service ISO 9001:2015 and AS9001 REV D-certified, ITAR-registered manufacturing for all machined components. Our scope of work includes machining parts made from bar, plate, forgings, castings and additional components. Miller CNC's in-house 3 Axis, 4 Axis, and 5 Axis mills allow us to mill virtually any component up to 40 inches in length. Our CNC lathes are ideal for turning extremely tight tolerances and fine surface finishes, primarily in the aerospace industry. Our temperature-controlled inspection room ensures every part meets the highest industry standards through CMM and manual inspection. Lastly, we rely on our CAM system and Hypermill, Solidworks, MasterCAM, PC-DMIS CAD++ and Shoptech E2 Shop Management software for a quality that can't be matched by our competition.
Industries Served
We have experience manufacturing complex components that meet even the most unique, industry-specific requirements for several applications such as:
Contact Miller CNC For Quality Machining Services
Contact us or submit an RFQ online for more information on our ISO 9001:2015 and AS9001 REV D-certified, ITAR-registered CNC Machine Shop milling and turning processes.